A Pediatrician's Pandemic Immune Support Plan
Because of many questions she has received concerning her own family's handling of Covid-19, Healthy Kids Happy Kids Founder, Dr. Elisa Song, has developed a pediatrician's pandemic immune support plan.  Here is Dr. Song's
Pandemic Immune Support Plan"in a nutshell":
First Priority: Optimize Diet & Lifestyle
Second Priority: Harness the Power of Food as Medicine
Third Priority: Use Targeted Nutritional Supplements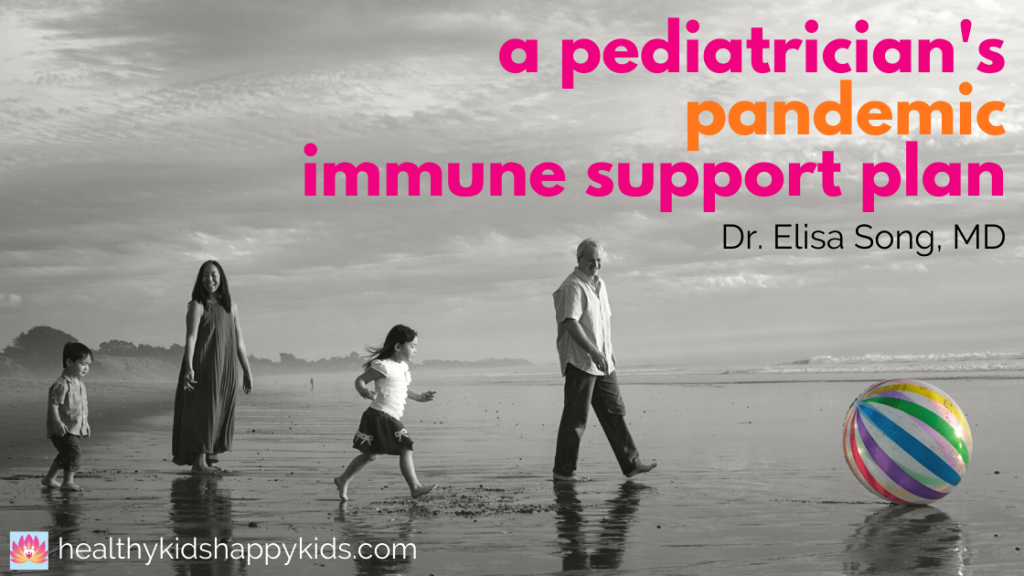 "You can't out-supplement an unhealthy diet and lifestyle."
In addition to getting exercise and "eating the rainbow", Dr. Song encourages readers to use the time wisely by:
Learning how to handle stress differently
Loading up on foods that help boost your immune system over time
Getting enough quality rest
Dr. Song also encourages families to practice gratitude.  Because"Practicing a loving kindness meditation not only helps us feel good, it may actually increase the number and effectiveness of our white blood cells to fight infections."  This article helps define further the practice of gratitude to boost one's overall health and wellness.
Food As Medicine
Dr. Song further outlines eight different groups of foods high in specific vitamins and minerals known to help boost the body's immunity.  These include some of the old standbys, like Vitamins C & D.  However, a couple of new names pop up on Dr. Song's top eight:  Quercetin and Glutathione.  Quercetin may "have the potential to slow down SARS-CoV-2 replication similar to zinc."  Dr. Song explains Glutathione a "master antioxidant", noting that it is naturally produced in the liver and was "found to inhibit a specific enzyme that is critical for SARS-CoV replication."
Learn More and Meal Planning Using Food As Medicine
You can order Dr. Song's free booklet, Food as Medicine for Coronavirus, from the main article.  So look for the title in the main article.
Learn More About MissionFiT Athletes and Partners in Our FitBits!